Concern Warns 55,000 Children Are at Risk of Death From Starvation by Christmas in Somalia
OVER 55,000 young children could die from starvation in conflict-hit Somalia before Christmas – an Irish aid agency has warned.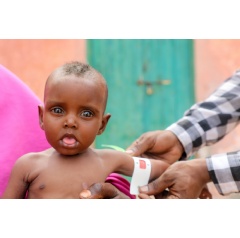 Credit: concern.net
Malnutrition is killing children
Concern Worldwide made the stark warning today as it launched a special appeal, calling for immediate action to save the lives of those impacted by ongoing violence in the East African country.
"Malnutrition is killing children every day and as Christmas approaches, we are asking the Irish public to help us save as many lives as possible," said Concern's Regional Director for the Horn of Africa, Carol Morgan.
Somalia has been ravaged by conflict since the 1980s and this has led to unprecedented levels of malnutrition and starvation – with children among the most vulnerable.
More than 1.5 million Somalis have been driven from their homes since November 2016 as a result of drought, conflict and flooding - bringing the total number of internally displaced people to 2.6 million.
Concern is responding to the crisis by providing life-saving food sachets to babies and young children through eleven dedicated Outpatient Therapeutic Programmes (OTPs) across the country.
One of the women who recently came to a Concern centre in desperate need of help was mother-of-three Hani (23), who pleaded for staff to save the life of her gravely ill nine-month-old daughter Nala.
Last year, pregnant Hani had been forced to flee her home after conflict broke out and she became separated from her husband in the chaos surrounding the exodus from the village.
We never have enough food
Having left everything behind, she had no choice but to make the dangerous journey to a camp for the internally displaced in Mogadishu with her two infant sons.
Hani made it to the camp and gave birth to Nala, but her ordeal was far from over due to massive food shortages.
"We never have enough food," said Hani.
"When we hear the explosions, we know we are going to go hungry.
"There are days when we eat and there are days when we go without, that's the way it is. I have never known a time where we have had food every day.
"When we arrived at the camp, people died almost every day and were buried in nearby graves.
"One of our relatives died because she didn't have enough food. That was devastating and frightened us more."
Due to Hani's struggles, Nala was born underweight and malnourished. Despite being nine months old when she arrived at the nutrition centre, she weighed the same as a newborn.
"I was weak so my baby was born small," added Hani.
"She never gained weight because I could not feed her properly. My baby has no energy. She used to look at me a lot and smile, but now Nala just lies in my arms and sleeps.
"I worry day and night about my child. I thought she was going to die."
Nala is one of 25,000 severely malnourished children who have received food and medical support from Concern in 2018, with over 225,000 babies and young children screened for malnutrition since January.
In addition to nutrition support, Concern is also distributing essential items including hygiene and sanitation kits, kitchen ware, mosquito nets, and cash transfers to those living in Somalia's camps for internally displaced people.
Concern's Carol Morgan said that that daily life for the many people in Somalia is "incredibly hard" with very high numbers of people displaced from their homes and needing support to meet their most basic needs.
"Hani is one of millions of people who are trapped in a nightmare which has no end in sight," she said.
"Many people in Somalia have lost everything as a result of the ongoing violence and the effects of last year's severe drought, with many unable to feed themselves or their families."
Hani said she dreams of a time when she will be able to return to a normal life outside of the camp.
"I have never known this city to be peaceful. The trouble is part of our normal life.
"I dream that one day Nala and the rest of my children will see a peaceful Mogadishu and never worry about having enough food. We all just want to live in peace."
For more information on Concern Worldwide's Christmas Appeal, see Concern's website