Dangerously Unregulated: The Dire Conditions at Hargeisa Group Hospital
If you need medical attention from one of the publicly run hospitals in Somaliland such as Hargeisa Group Hospital, make sure you bring with you latex gloves, syringes and most of the basic medical provision you will need. Should you be unfortunate not to have these basic medical supplies with you, the nurse of the doctor will simply move on to the next patient.
While government-run hospitals such as Hargeisa Group Hospital are much cheaper than their privately owned counterparts, every service you may need including the hospital stay is a service you will have to pay for separately and if you need white-glove service, obviously it's an extra charge.
There are public hospitals in most major cities in Somaliland and Hargeisa Group Hospital is the largest in the country and was built in 1950 to serve 20 to 30 thousand people now serves more than half a million a year with no significant changes or upgrades.
We have visited Hargeisa Group Hospital and spoke to doctors and other medical professionals and patients to understand their experience of Somaliland's public hospitals.
In the past, people lost their lives because basic medical services were inadequate in Hargeisa Group Hospital.
One person we spoke to told us stated that a relative passed away because the person in charge of the hospital oxygen supply was unavailable. Another patient died of her gunshot wounds because lifesaving surgery could not be performed without the anesthesiologist who went home for the night.
It is important to note that these incidents particular incidents took place few years ago and we have confirmed that both departments are manned 24/7.
While many say the conditions at Hargeisa Group Hospital have substantially improved, others point to staff that are focused on ensuring they get paid a fee to place a patient in one of the payment based rooms than the wellbeing and care of patients.
HOW IS HARGEISA GROUP HOSPITAL FUNDED?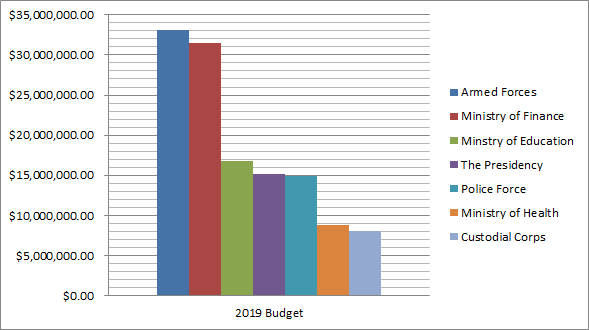 Only 1.3 million dollars is allocated for activities directly related to public hospitals. It is not clear how much the government has earmarked to individual hospitals and specially Hargeisa Group Hospital.
Other agencies fund various departments of the hospital such as the maternity and neonatal, maternity and the dialysis departments.
The hospital itself generates significant revenue from various services it provides including hospital stay in the rooms. The prices are 8 US dollars for the older rooms and there are 34 of them and 15 US dollars for the24 newer rooms and according to current employees of the hospital, there are rarely any vacancies. The room occupancy alone could conservatively generate well over 200,000 US dollars a year.
| | | | |
| --- | --- | --- | --- |
| Rooms | Price | Day | Annual |
| 24 | $ 15.00 | $ 360.00 | $ 131,400.00 |
| 34 | $ 8.00 | $ 272.00 | $ 99,280.00 |
| | | Annual room Rental | $ 230,680.00 |
While there are no free services at Hargeisa Group Hospital, its fees are substantially cheaper than the privately owned medical facilities and there is also a waiver system for those that cannot pay.
According to a midlevel employee of Hargeisa Group Hospital who spoke on condition of anonymity, none of the revenue the hospital generates goes into government coffers where it can be properly accounted for and ensure that hospital running costs are actually paid and funds set aside to purchase or replace aging equipment.
In fact, according to the same employee, every Section Manager from the Ministry of Health was drawing a bonus of 700 US dollars a month from the hospital. Who approved these payments and how long this has been the case are unknown. The new Manager of Hargeisa Group Hospital Mr. Yassin Abdi suspended these payments.
Despite the many sources of funding and revenues to run and improve conditions at Hargeisa Group Hospital has significant debt to the tune of hundreds of thousands of dollars.
Only two weeks after the helm as the Director of the Hospital Dr. Yassin Abdi Arab told the Social Affairs Committee of Somaliland Senate that his predecessor Dr. Ahmed Omar Askar has left him with a debt of 423,000 US Dollars for unpaid electric bill and purchase of medicines for the hospital.
Sources with knowledge of the operation of the Hargeisa hospital who requested anonymity point to widespread corruption and mismanagement. When asked for proof of the corruption allegation, most have pointed to the lavish lifestyles of some employees of the hospital.
A medical professional working in Hargeisa Group Hospital said: We need a holistic review and a solid plan, I don't think adding a new building every few years has worked for us.
MEDICAL WASTE DISPOSAL AND ASBESTOS
One of the most bizarre things we have learned during our investigation of Hargeisa Group Hospital is that is the hospital has no incinerator or medical waste disposal facility.
There is no seperate stream to ensure hazardous waste does not end up in the hospital's regular refuse. This could endanger the hospital's custodial staff and the general public.
What is more alarming is that the hospital chooses to bury placentas and other human tissues in the back of the hospital. Multiple employees from the Ministry of Health Development confirmed the unmistakable smell of decomposition coming from windows that face the back lot of the hospital where human tissues are allegedly buried.
In addition, the hospital has no process to dispose of an amputated body parts such as limbs they simply ask the patients family members to take it with them and bury it somewhere.
On the handover ceremony, the former Director of the hospital Dr. Ahmed Omar Askar stated that most of the wards that were build by the British have Asbestos and went to explain the dangerous health hazards associated with exposure to it including the fact that it causes lung cancer.
LACK OF CONFIDENCE
The lack of confidence in public hospitals has led to the creation to multiple privately owned hospitals throughout Somaliland where many are staffed by foreigners and the same doctors who work at the public hospitals such as Hargeisa Group Hospital.
The vast majority of patients who use the publicly run facilities such as Hargeisa Group Hospital are those who cannot afford the exorbitant price of the private facilities in Somaliland.
When the former Minister of Health Dr. Hassan Ismail Yusuf fell ill in late January this year, he was taken to Haldoor private hospital and not Hargeisa Group Hospital.President Bihi accepted Dr. Hassan Ismail Yusuf resignation in April 2019 following his illness and replaced him with Mr. Omar Ali Abdillahi Bade as the Minister of Health.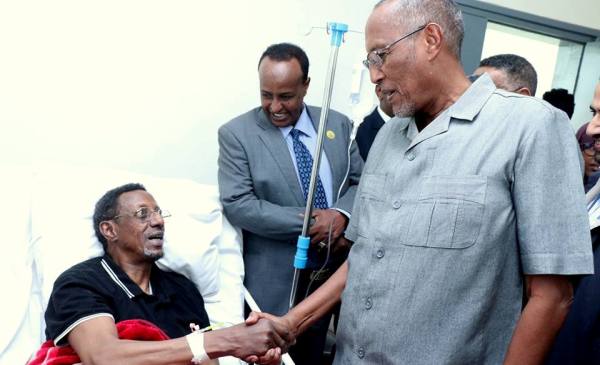 Private hospitals such as Haldoor, Hargeisa International Hospital, and Edna are not affordable to most patients but many believe that they offer the best chance of survival for acute medical conditions.
Edna Aden Hospital

Hargeisa International Hospital

MRI machine at Haldoor Hospital
Those with means avoid seeking medical care in Somaliland altogether and embark on arduous journeys to Ethiopia, Djibouti and as far away as Turkey and India to seek medical attention and potentially spending tens of thousands of dollars because they do not trust the healthcare system in Somaliland.
There is no data from the Ministry of Health to show trends and help compare private and public health facilities in terms of quality of care.
Other public hospitals throughout Somaliland fare even worse than Hargeisa Group Hospital and most lack even the most basic of services despite millions of public funding being spent on them and changing hands from multiple NGOs.
The new Direct of the Hargeisa Group Hospital Dr. Yassin Abdi has declined to comment for this story citing an ongoing review of hospital processes.
Efforts to reach his predecessor Dr. Ahmed Omar Askar for comments were unsuccessful.