Puntland First Lady leads in the fight against maternal and neonatal deaths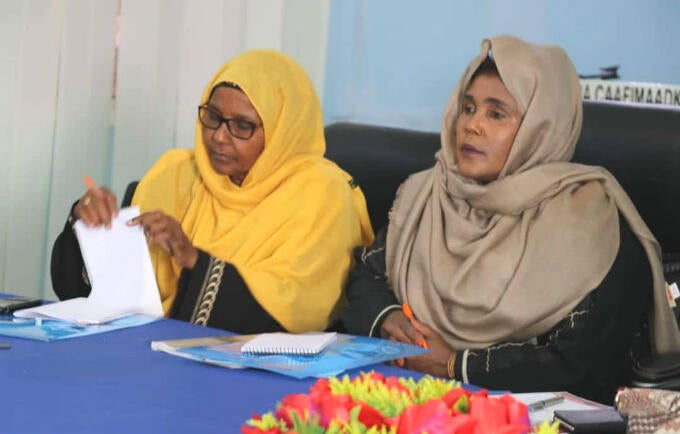 Somalia has one of the highest lifetime risk of maternal deaths in the world, with women facing a one in 22 lifetime risk of maternal death. The maternal mortality ratio is estimated at 732 deaths per 100,000 live births.
On 9 August 2018 the CARMMA Ambassador in Puntland
First Lady Dr. Hodan Said Isse led a
high-level advocacy event, which was held in Garowe to enhance political leadership, commitment, and ownership at all levels to invest in maternal health as well as increase public awareness on the issue of maternal mortality.
"It is essential that women can should have access to life-saving high quality antenatal, delivery care and postnatal care, wherever they live. In this regard, ensuring health facilities are up to standard and promoting the benefits of up taking maternal health services is critical," said Dr. Isse.
The CARMMA Goodwill Ambassador also highlighted the importance of engaging all actors to increase accountability and investments in support of maternal and child health. She also emphasized the need to address obstetric fistula in Somalia. "I am concerned about the plight of women and girls living with obstetric fistula in Somalia. It is our collective duty to eradicate this devasting condition so that our daughters, mothers and sisters can have a dignified and full life," said the first lady.
The State Minister of Health Mr. Sayed Omar Adam Guleed commended the CARMMA Goodwill Ambassador, parliamentarians, religious leaders and other key stakeholders for their tireless support towards maternal and child health issues.
"It is our responsibility to sustain the momentum gathered in the aftermath of the CARMMA launch and ensure that we can provide maternal and child health services to those with the least access, the most marginalized, disadvantaged and under-served populations," said Mr. Guleed.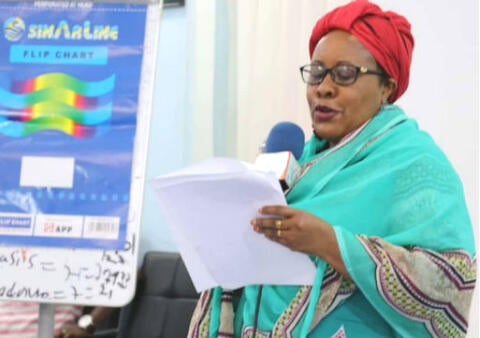 UNFPA's Ms. Nzau speaking at the event
The Minister of Women Development and Family Affairs (MOWDAFA) of Puntland State of Somalia, Ms. Maryan Ahmed Ali was also in support of the efforts to end maternal and new born deaths. "In our consolidated efforts to tackle maternal mortality, it is key to continue investing in Gender-Based Violence (GBV) prevention, as GBV during pregnancy puts the health of both the mother and child at serious risk, and may subsequently contribute to maternal and child mortality," said Ms. Ali.
During the CARMMA event, Ms. Su'di Hamid, Reproductive Health Manager for the Ministry of Health presented the current reproductive health status, achievements and lessons learnt in Puntland. "A total of 40 midwives graduated from our midwifery schools in Garowe and Bossaso this year," said Ms. Hamid. She stated the Ministry of Health has been doing a lot of work to expand

Comprehensive Emergency Obstetric and Newborn Care (

CEmONC) service provision to remote and hard to reach areas, including in Nugaal, Bari, Mudug and Sanaag regions. "Two new boat ambulances were procured in the coast of Bari and Karkar regions and there are functional ambulances at all regional levels," stated Su'di Hamid.
Ms. Juliana Nzau, UNFPA's project manager for Integrated Community Reproductive Health highlighted the commitment of UNFPA towards improving human resources for health service delivery, especially in midwifery and integrated quality reproductive, maternal and neonatal health services, at rural, community and urban level. "In developed countries, pregnancy and childbirth are normal phases in the life of a woman. In Somalia however, the most common cause of death of women of childbearing age is preventable complications of pregnancy and childbirth," said Ms. Nzau.
During the event parliamentary members pledged their commitment to advocate for greater investments in maternal and child health while emphasizing the importance of involving local and diaspora communities to improve the availability, accessibility, acceptability and quality of maternal health services in Puntland State of Somalia. "We need to explore ways to improve the collection of funds from the public and from the diaspora to enable the procurement of equipment, train health professionals and support service delivery on maternal and child health", stated Ms. Faiza Artan Boos, one of the parliament members.